100% Vegan

Free UK Shipping

Free UK Returns

1 Year Guarantee
Elevate your shaving experience with our plastic-free bamboo safety razor and say goodbye to single-use plastics. Not only is this razor environmentally friendly, but it's also more economical than traditional cartridge razors.
This re-usable razor is crafted from ethically sourced, highly-sustainable bamboo, so you can have a sharp, sustainable shave and do your part to protect our planet from the 8 to 10 million tons of waste that enter the ocean each year. Take action now with our plastic-free razor and enjoy an authentic, effective wet-shave that won't break the bank.
Disposable plastic razors have a terrible environmental impact, conventional re-usable metal razors still use non-recyclable cartridges and are wasteful and expensive. There is a better, more ethical alternative out there – and you've found it.
Ethical Plastic-Free Razor For a Sharp, Sustainable Shave
Our re-usable plastic-free razor provides the perfect shave without sacrificing durability or sustainability. Our plastic-free razor can be refilled with standard high-quality double-edged razor blades that cost some 10p per blade instead of £2 or more, which is the cost of conventional razor blade cartridges.
Not only does our plastic-free razor provide a high-quality authentic wet-shaving experience, but it's also cheaper in the long run and helps contribute to a sustainable green future for all.
Clear Confidence aims to provide you with the products you need to make a difference.
Our bamboo handled re-usable razor is crafted lovingly from ethically sourced highly-sustainable bamboo. Bamboo, when grown with care and attention, is a remarkably sustainable crop. Fast-growing, hardy and with low nutrient and water demand, it has quickly become a hallmark material for eco-conscious sustainable industries.
Bamboo possesses so many awesome physical characteristics. It is not only extremely hardwearing but also aesthetically beautiful and elegant, the perfect material for our sustainable razor!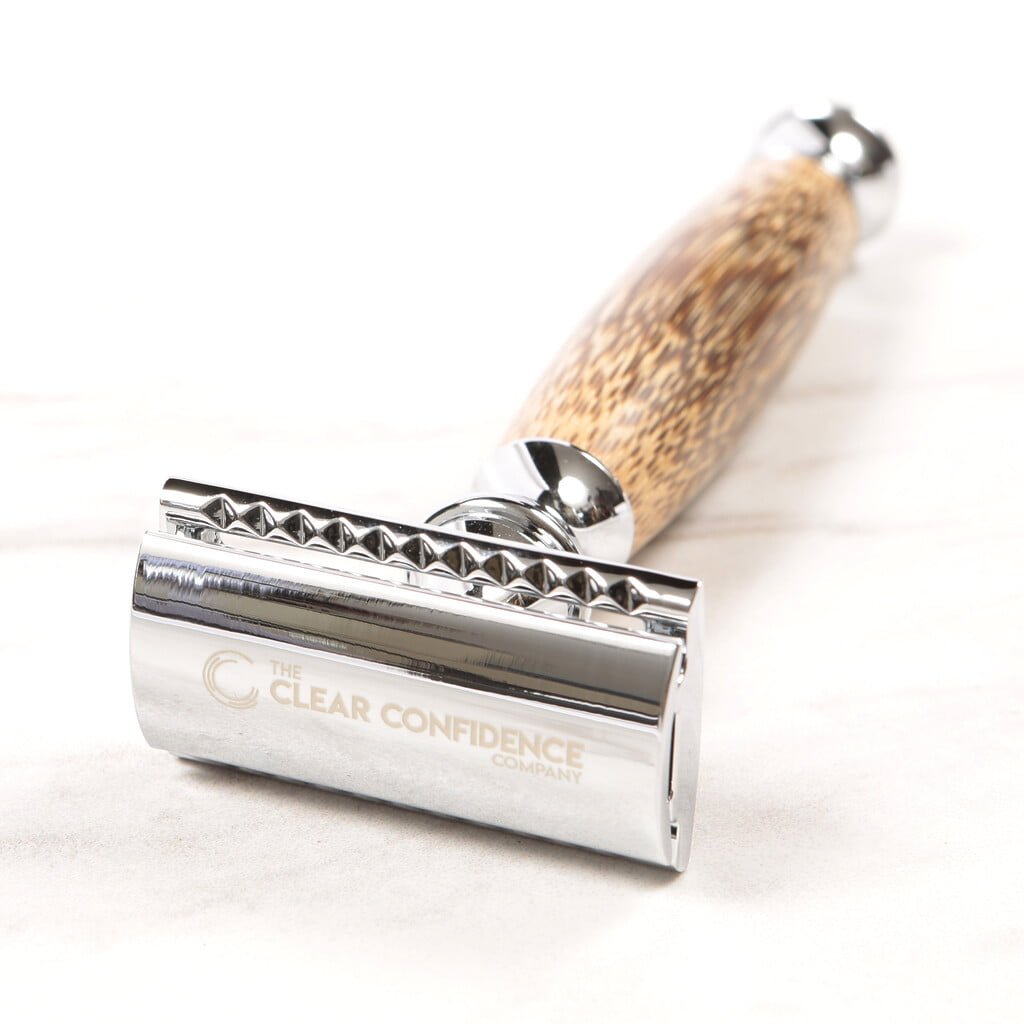 Authentic High-Quality Shaving – Discover the benefits of a real authentic wet shaving experience. Our bamboo safety razor provides a professional shave free from ingrown hairs or other irritations.
Sustainable Construction – Made from sustainably sourced bamboo, our razor is designed to last near enough a lifetime. You simply add standard double-edged razors – there is no need to replace the razor itself or buy expensive cartridges.
Save Money – Double-edged razors cost 10p – 20p each, a vast reduction compared to non-recyclable razorblade cartridges. Save money in the long run and contribute less waste to land and sea.
Help the Planet – Conventional razors are awful for the environment. This green solution sacrifices nothing, it allows you to achieve a professional shave without contributing to landfill and oceanic pollution.
Posted Anywhere – We do not ship this product with a razor as this enables us to send it anywhere worldwide.

100% Vegan

Free UK Shipping

Free UK Returns

1 Year Guarantee